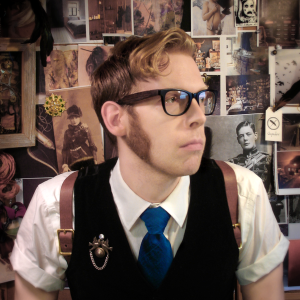 Jonquil is form and Mr Black is function. Together, they are Jordan Christianson.
A Pacific Northwest native and Couturier to it's unique entertainment and design community, Jordan's work has been featured internationally in galleries, on stages, pages, and screen.
In past lives, he's been costume designer for theatre, a graphic designer, a doll-maker, furniture builder, classical musician, columnist, editorial and personal stylist, sculptor, mural painter, photographer, volunteer, organizer, and general dandy man-about-town.
---
What They Say
"His effortless ability to brainstorm creative and inspiring ideas in the spirit of play come to solid, unique, and engaging design as a result." – K. Wendt
"These designs carry us backward, capturing something romantic and faraway: an image of a man—not a real man, but an old-timey drawing of one—spry and handsome, strolling through slanted gold light, and whistling some twirling song." – M. Jonjak
Of Note