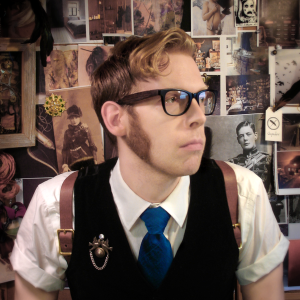 Jonquil is form and Mr Black is function. Together, they are Jordan Christianson.
A Pacific Northwest native and Couturier to it's unique entertainment and design community, Jordan's work has been featured internationally in galleries and museums, on stages, pages, and screens.
He's a designer for theatre, a surface and graphic designer, doll-maker, sculptor, classical musician, furniture builder, columnist, personal and editorial stylist, painter, photographer, producer, organizer, activist, and general dandy man-about-town.
---
What They Say
"His effortless ability to brainstorm creative and inspiring ideas in the spirit of play come to solid, unique, and engaging design as a result." – K. Wendt
"These designs carry us backward, capturing something romantic and faraway: an image of a man—not a real man, but an old-timey drawing of one—spry and handsome, strolling through slanted gold light, and whistling some twirling song." – M. Jonjak
Of Note